"I am a wanderer and a mountain climber, he said to his heart; I do not like the plains, and it seems I cannot sit still for long. And whatever may yet come to me as destiny and experience will include some wandering and some mountain climbing"
– Friedrich Nietzsche, Thus Spoke Zarathustra (Book III, XLV, "The Wanderer")
I clearly recall my first experience of Flagstaff's mountain views. I had just landed at the Pulliam Airport in June 2018 in advance of my interview for a philosophy position at NAU. My previous experiences with Arizona had all been in Phoenix, so I was expecting the flora and fauna of Flagstaff to be more of the same: desert, cacti, maybe some quail and roadrunners if I was lucky. I was shocked to look around me and discover the tall, orange-barked Ponderosa. I was even more astonished upon first seeing the San Francisco Peaks, which in early June were no longer snow-capped and were instead a luscious forest green, fading to a rocky grey. I'm from the Midwest; our hills are rolling and our elevation is sea-level. Mountains were wholly new to me. I had a similar experience several months later upon first seeing the Grand Canyon. My sister and I took a shuttle bus from the Visitor Center to the South Kaibab trailhead. Our first sight of the canyon quite literally took our breath away (it's possible that I even teared up a bit; or maybe that was just the bright August light shining in my eyes).
The mountains and canyons that comprise the Flagstaff landscape are exceedingly beautiful. I suspect I'll get no pushback on this point (except, perhaps, from those Google users who rate the Grand Canyon with one star: "It's not that grand"). Is there anything quite like waking up to white covered mountains after a snowstorm, or strolling through the golden leaves of Aspen Corner and Lockett Meadow? They remind me of the fictional Lothlorien; aspen woods feel like they belong to a magical world. I still find myself in awe when I catch a glimpse of snowy mountains. I hope that feeling never leaves me.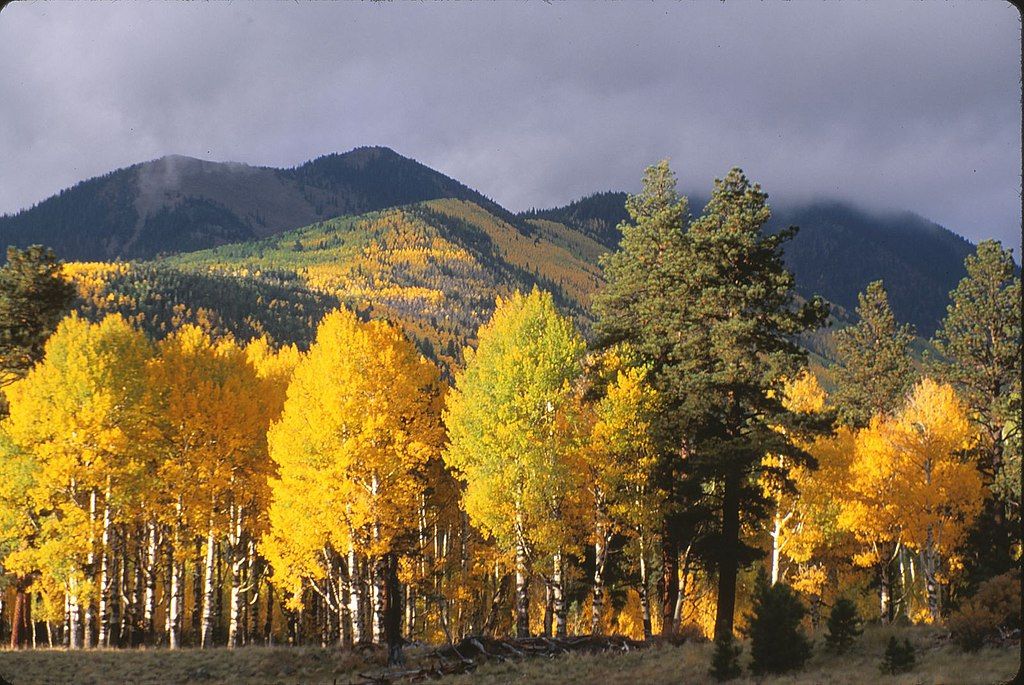 I could go on and on, waxing lyrical on Flagstaff's natural beauty. Yet, underneath the joy and wonder that I feel upon viewing the mountains, there is an undercurrent of something dark and dangerous. This is not pure aesthetic pleasure at a beauteous object. My experience is tinged with fear. The fear may take several forms: the way a mouse must feel when it notices a cat lurking from the shadows; how Arjuna felt when confronted with the full cosmic force of the god Vishnu; what a surfer might experience when she encounters a larger than average wave. There's exhilaration, trepidation, and a deep anxiety to prove oneself in the face of our fear. In the time I've lived in Flagstaff I've learned what any Scout or hiking guru could readily explain: mountains are not to be trifled with.
Philosophers have a name for these Janus-faced pleasurable/fearful experiences. We call them sublime. In what follows, I will explore the concept of the sublime and how Flagstaff's mountainous skyline exemplifies sublime experiences. I'll also discuss the irresistible draw of the mountains, in spite of—or, because of—their danger. This feeling is a common one in Flagstaff, a sentiment I haven't encountered in my Midwest or East Coast locales. Just consider the sheer volume of bumper stickers and water bottles featuring the naturalist John Muir's famous saying: "The mountains are calling, and I must go."  The 19th century German philosopher, Friedrich Nietzsche, captures a similar feeling in the epitaph to this essay. I think we can make sense of the inexorable allure of the San Francisco Peaks by understanding the nature of the sublime.
I'll begin with some historical context. The 18th century Irish philosopher, Edmund Burke, describes the sublime as a fundamentally fearful psychological experience. He stated: "the sublime is an idea belonging to self-preservation. That it is therefore one of the most affecting we have. That its strongest emotion is an emotion of distress, and that no pleasure from a positive cause belongs to it" (Burke, pg. 79). He continues by stating that astonishment is the primary emotion caused by the sublime in nature. For Burke, the sublime is predominantly negative. I may cower at the magnitude of Humphrey's peak. I quake at the thought of scaling the mountain with its forceful winds and scant oxygen. That may be the way some people experience mountains. They're big and they're dangerous and maybe it would be better to stay home and drink hot cocoa in front of a fire. Less hazardous to one's health.
Other people will find something pleasurable in their experiences of the sublime. For me, standing at the base of Snowbowl and gazing to Humphrey's summit is a wee bit anxiety inducing, but it is also awe-inspiring. It is a challenge. It is a personal invitation to see what I'm made of. The late German philosopher Immanuel Kant captures the dual nature of the sublime in his 1790 text, Critique of Judgment (sometimes just called the Third Critique, since Kant wrote two other Critiques: Critique of Pure Reason and Critique of Practical Reason). Kant's primary concern in the Third Critique is to evaluate the nature of aesthetic judgments. These are judgments of beauty. When I spy a Steller's Jay and think, "My, what a beautiful blue bird," I am making an aesthetic judgment. Kant primarily focused on aesthetic judgments of natural objects—flowers, sunsets, animals—but we can also make aesthetic judgments about works of art, such as paintings and sculptures. For our present purposes I will focus on aesthetic judgments about nature.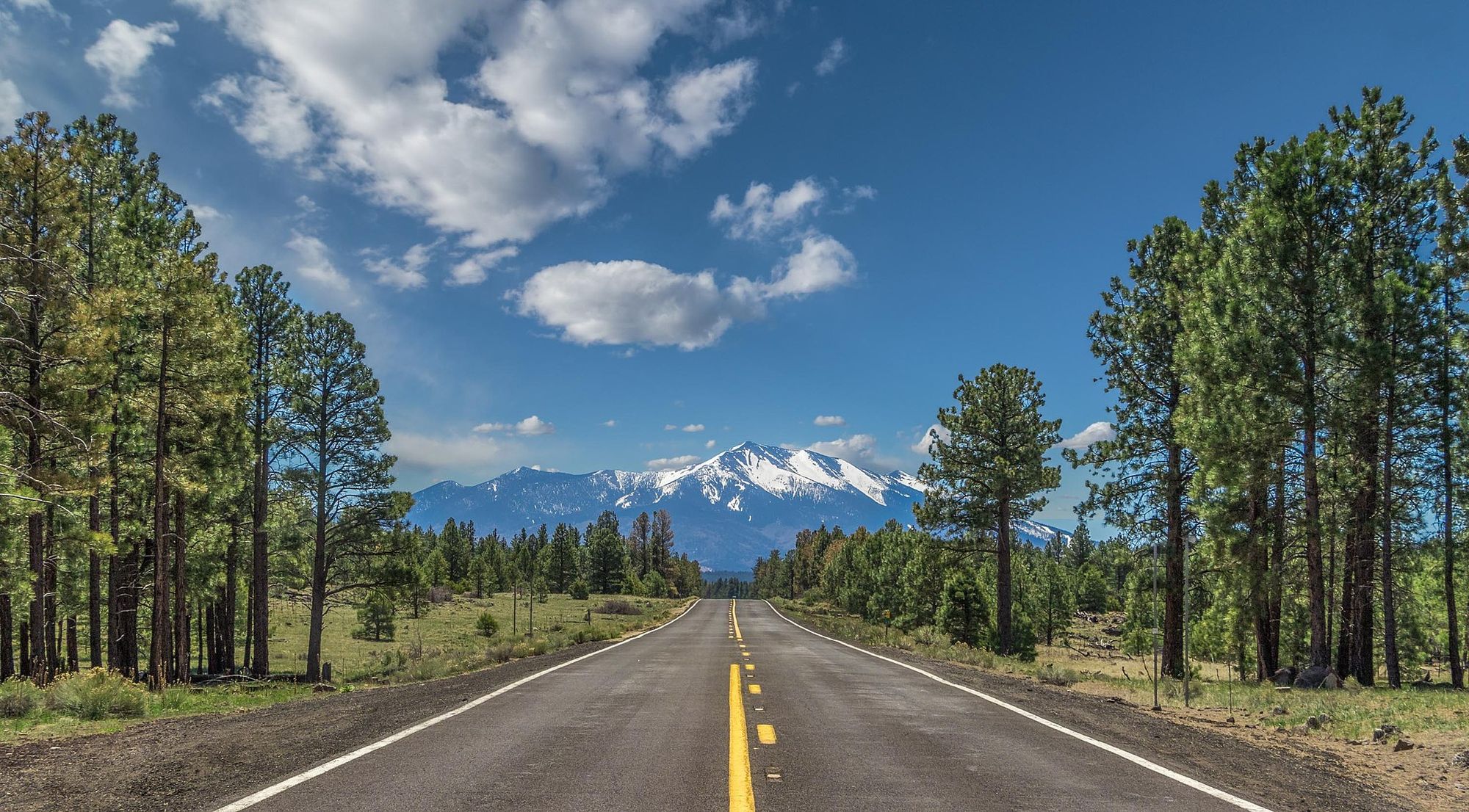 It's helpful to understand the difference between aesthetic judgments and judgments of the sublime. Kant's theory of aesthetic judgment is notoriously tricky to grasp. I'll do my best here to give you the gist of his view, but I recommend reading some of the references at the end of this text to get a more complete overview of the theory (see SEP, IEP).
First, the "power of judgment," according to Kant, is the faculty "for thinking the particular under the universal" (Introduction IV, 5:179). This means that the power to make a judgment is the capacity for the mind to consider a particular object—say, that coffee mug on the table in front of you—and recognize that it is a token of the general type COFFEE MUG. We make judgments all the time. It's how we recognize things in the world around us. Aesthetic judgments are different, however. Aesthetic judgments are based on feelings of pleasure or displeasure. There are several types of aesthetic judgment; we will focus on judgments of natural beauty and judgments of the sublime.
What are the characteristics of judgments of beauty, according to Kant? First, they are disinterested. This means that we take pleasure in beautiful things because they are beautiful and we find that sensation pleasurable, not because beautiful things can benefit us or be used in some way. This makes judgments of beauty different than, say, judgments of gustatory taste.  When I say "pizza is yummy" [i.e., pizza is pleasurable] I am saying this because I want to eat pizza. In contrast, when I say that a mountainscape is beautiful, according to Kant, I am simply taking pleasure in the experience I have when perceiving a beautiful mountain. Moreover, Kant says that judgments of beauty are "purposive without purpose." The purpose of a thing is the reason why it is used or why it is made. So, a beautiful thing seems to have a purpose, but it actually doesn't. I may also look at a beautiful work of art and wish to own it (this is a game I played at art museums as a child when I was bored; which painting would look best in by kitchen, bedroom, or bathroom?). The mountains serve a purpose: we want to visit, scale, and preserve the mountains. There are also deep-rooted religious implications to the mountains for indigenous groups, such as the Navajo. Again, such considerations prevent our experience of the mountains from being purely aesthetic. These experiences are not aesthetic because they involve considering a work as being of use.
Aesthetic judgments are also "universal" and "necessary." This means that when we take pleasure in a beautiful object in nature, such as a sunset over the peaks, we should expect others to find that object beautiful as well. That's the universal part. To say that judgments of beauty are necessary means that we treat beauty as a real property of the object. Beauty is not just in the eye of the beholder; beauty seems objective to us. Kant says that we are wrong in this belief; beauty really is a product of the mind, but we treat beauty as if it is objective (see SEP).
In sum, aesthetic judgments of beauty are disinterested judgments we make for the sake of the pleasure we get from them. But what if the aesthetic judgment is not purely pleasurable?  That's where the sublime comes in. Judgments of the sublime are also aesthetic judgments, but they differ from judgments of beauty in important ways. Kant identifies two types of the sublime: the mathematically sublime and the dynamically sublime. The mathematically sublime involves the perception of magnitude—of things that are excessively large. We are confronted with, say, the Grand Canyon, the vastness of which overwhelms our ability to comprehend it (§28, 261). The dynamically sublime is a feeling we have in the face of a powerful thing in nature, such as the force of a storm. Casper David Friedrich's painting, The Wanderer Above the Sea of Fog captures the sense of the dynamical sublime quite nicely. A solitary figure is precariously perched on an outcrop of rock, confronting a vast and mysterious landscape. Both the dynamically and mathematically sublime give us the sense that we are small and powerless in the face of nature.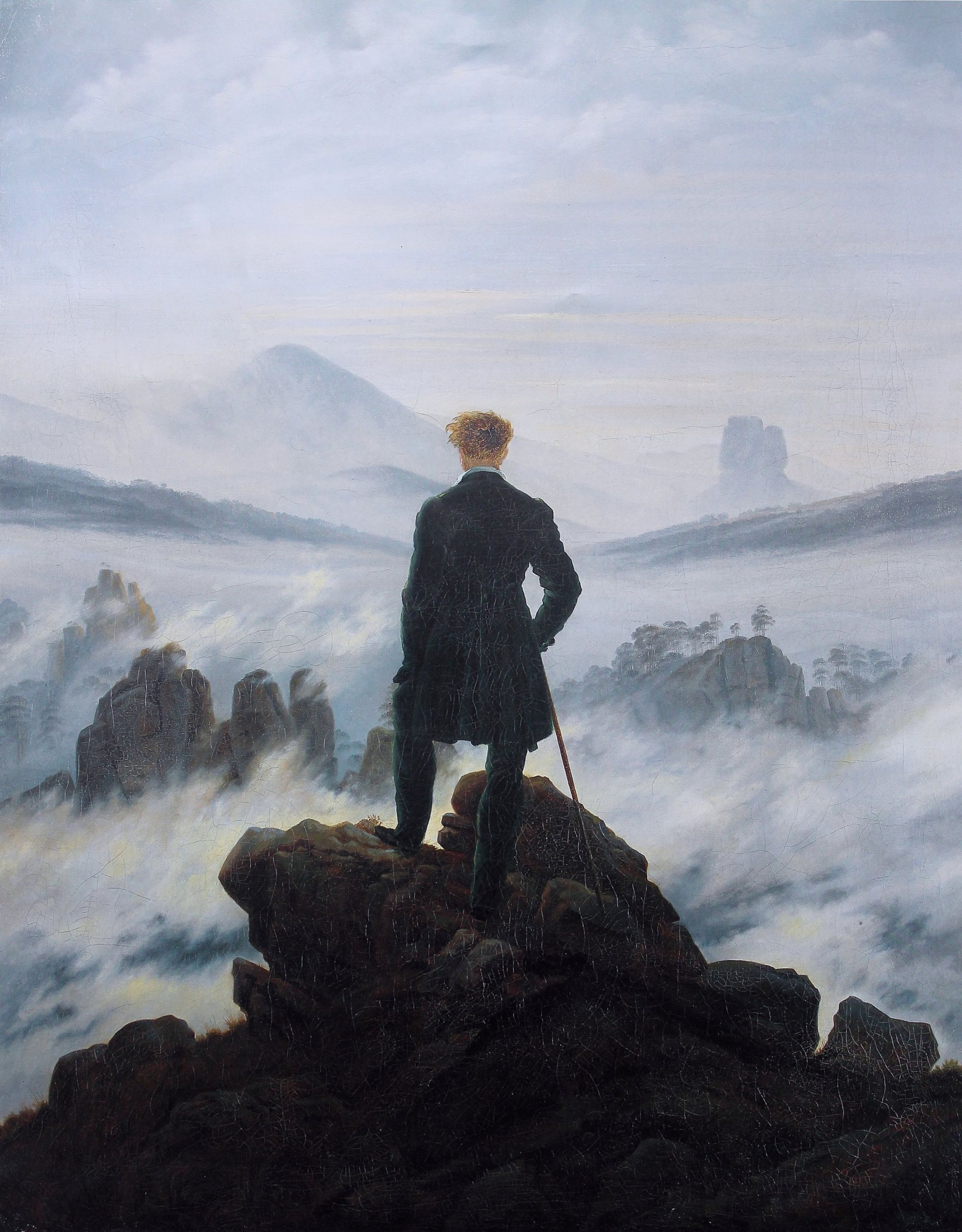 However, Kant says that the feelings of fear we have in the face of nature are misleading. In fact, the sublime involves the superiority of human reason over nature. We recognize that the power we perceive "has no dominion over us" ((§28, 260). Kant says:
the irresistibility of [nature's] power certainly makes us, considered as natural beings, recognize our physical powerlessness, but at the same time it reveals a capacity for judging ourselves as independent of nature and a superiority over nature…whereby the humanity in our person remains undemeaned even though the human being must submit to that dominion (§28, 261–262).

So, while the sublime involves a feeling of fear, is also involves a feeling of pleasure—we are in a position of safety relative to the vast thing (if we weren't safe, we wouldn't feel pleasure at all, we'd just feel fear). Kant calls this a "pleasure which is possible only by means of a displeasure" (§27, 260), akin to a feeling of respect (§27, 25; see SEP). We respect the magnitude and potential danger of the sublime object—it can do us harm—while at the same time we know that we are ultimately safe from danger. I find this last point helpful in understanding the draw of Flagstaff's mountains. We recognize that the mountains are vast and powerful—maybe not the mountain itself, but the wind and snow and physical challenges they present—but we also take pleasure in the fact that we have means to observe and even interact with them safely. That's what keeps our perceptual experience of the mountain from being strictly fearful.
Against Kant, I'd argue that a pleasurable experience of the sublime is not due to our own rational mastery over nature, of knowing that we are safe, at home with our intellects, free to admire the majesty of the mountains from afar. Rather, I think that our aesthetic appreciation of the mountains is imbued with awe. Here's an object that has nothing to do with human creation and does not bend to our will. We admire the mountains because, in part, we accept their power over us.
All of this is to say that our visual and conceptual experiences of mountains are remarkably complex. They involve an appreciation of beauty, fear, the desire for mastery, superiority and, interestingly, also powerlessness.  I also want to highlight another type of experience of the mountains that I mentioned above: the idea of the mountains as a metaphor for personal growth and achievement. I think this is related to Kant's point that experiences of sublimity involve both superiority and respect for the object we deem sublime. We respect the majesty of nature and see it as a call to adventure, a challenge to grow.
Here's what I mean. In early March 2021, I decided to run the Grand Canyon's Cowboy Loop. This is a challenging 18+ mile loop that begins at the Rim and descends to Phantom Ranch at the Colorado River, connecting the South Kaibab and Bright Angel trails. The snow trails were beautiful and, indeed, sublime on the Rim. I felt both in awe of the majesty of the Canyon, as I always do, as well as fear. But on the Rim, I also felt quite safe. You can't slip off those trails if you are careful. But once I descended the icey South Kaibab trail that feeling of sublimity transitioned from sublimity (superiority) to straight up fear. The entire experience of running the Cowboy Loop changed between these feelings, of safety and superiority to straightforward fear. But underneath these feelings as also a deep desire to prove myself—not over the Canyon, but over myself. I wanted to prove myself to myself. In this way, I think that the feeling of sublimity can quickly morph into a desire for mastery, to overcome the fear that is implied by the feeling to begin with. Importantly, Kant states that sublimity is not a universal property of an object (§23, 245; see also SEP). An object is not sublime; we feel sublime in response to certain objects: "[the sublime] is not contained in anything in nature, but only in our mind" (§28, 264). I think that many people feel the desire to conquer that fear, to prove oneself in the face of it.
We see a similar metaphor about nature in the work of Fredrich Nietzsche—specifically, his 1874 text Thus Spoke Zarathustra (henceforth TSZ). Thee Nietzschean point that I want to focus on is the idea that nature, and particularly the mountains, draw people out of complacency and present an opportunity for personal enlightenment.
Consider the following quotes from TSZ:
"He who climbs upon the highest mountains laughs at all tragedies, real or imaginary" (TSZ, Book I, VII "Reading and Writing")
"My kingdom is no longer of THIS world; I require new mountains" (TSZ, Book IV, LXIX "The Shadow").
Based on passages like these, it seems that Nietzsche sees mountains as a metaphor for personal development and striving for progress. I think that his use of mountains as an illustration is more than a coincidence; there's enough allusion to mountains in TSZ that it seems clear that Nietzsche was trying to make some point with them. I want to explore what that point might be.
Nietzsche's text, TSZ, is famous for its concepts of the overman, eternal recurrence of the same, the will to power, "God is dead," and other ideas that have entered popular culture. It is not a standard philosophical tome. The text tells the story of the fictional prophet, Zarathustra, a hermit who lives in forested mountains with various different animals (an eagle, a lion, a snake). In the beginning of the text, Zarathustra leaves his forested isolation to bring his ideas to the people down the mountain. These villagers ultimately reject the prophet. Yet Zarathustra feels an obligation to teach the villagers what he has learned. During the prophet's descent down the mountain, he encounters an old man who tries to deter Zarathustra, saying: "Do not go to man. Stay in the forest!" and "Give them nothing!" (TSZ, Zarathustra's Prologue, 123). Zarathustra's response is "I love man" (the allusions to both Socrates and Jesus are very strong).
Zarathustra relays the following messages to the villagers:
"I teach you the overman. Man is something that shall be overcome. What have you done to overcome him?" (TSZ, Zarathustra's Prologue 124)
"The overman is the meaning of the earth. Let your will say: the overman shall be the meaning of the earth! I beseech you, my brothers, remain faithful to the earth, and do not believe those who speak to you of otherworldly hope!" (125).
These ideas may seem radical, but they make sense in the context of Zarathustra's journey. Nietzsche is trying to turn peoples' focus away from religious preoccupations with an afterlife, in favor of achieving happiness in this life. When Nietzsche says "remain faithful to the earth," he means that we should try for a joyous life here and now, and not worry about shaping our actions to conform to an idea of an afterlife that may or may not exist.
It's pretty easy to see how these ideas can be morphed and taken out of context so that we interpret Nietzsche as saying that we should not care about morality at all, that we should act however we want, whenever we want. This is an unfortunate distortion of Nietzsche's point. Consider the first part of that quote: the idea of "the overman" and self-overcoming. Nietzsche explores these concepts later in the text, in the chapter "On Self-Overcoming." In a speech, Zarathustra states: "I am that which must always overcome itself" (226, 27). This is also the passage where Zarathustra boldly claims that "Where I found the living, there I found the will to power" (226).
What is the will to power and what does it mean to self-overcome? The will to power is the desire for mastery, to possess power over others and oneself. This may seem like a pretty bleak picture of human nature, but in my heart of hearts it strikes me as true. I'm reminded of that sad idea that conversations between two people are not solely about listening to what another person has to say; they're about waiting politely until your turn to speak. I'm also reminded of capitalistic desires to achieve wealth and glory, and to possess many objects. These are all covert forms of the will to power.
Self-overcoming is also a kind of will to power. One interpretation of self-overcoming is that we humans have basic instincts and desires—to eat what we want, to do what we want, to drink and have sex and have fun and maybe engage in a little bit of the old ultra-violence—but we must tame those base instincts in order to achieve other uniquely human activities. Humans can write, do philosophy, and create amazing works of art. But we probably can't achieve these sorts of goals if we just eat pizza and play video games all day. Moreover, once we have made some "higher" achievements, we can't stop there. The call to self-overcome is perpetual: we try again and again to achieve more greatness. Striving is key. So, humans have a will to be powerful in general and also to have power over ourselves—to move beyond our baser natures and achieve great things.
We can connect these ideas to the mountain metaphor. In a chapter called "On the Way of the Creator," Zarathustra says: "But the worst enemy you can encounter will always be you, yourself; your life in wait for yourself in caves and woods" (176). Remember that scene in The Empire Strikes Back, where Luke Skywalker is training with Yoda on the planet Dagobah and must enter a dark cave, where he fights an imaginary Vader and sees his own face? This quote from TSZ reminds me of that scene. Luke must conquer his fear of Vader and his own insecurities in the face of a truly daunting quest. It's the only way he can succeed. Luke cuts down those fears with his lightsaber, freeing himself to master the Force.
Luke must strike down his own fears to achieve greatness. Nietzsche would probably say the same thing: we must rid ourselves of the fears of an afterlife to be great in our present life. One way to do this is to be joyous, to take pleasure in the world around us. Contrary to popular belief, Nietzsche's work, especially TSZ, is full of images of joy. Zarathustra is a free spirit, a dancer and a singer, who relishes in the world around him. We can do that, too. We can also conquer our fears through self-overcoming. Alas, we don't have a Force to master in the real world. But we can still work to master ourselves. Self-mastery can take many forms.  I'm practicing self-mastery when I struggle through difficult texts on quantum mechanics (a bizarre interest of mine). It would be so much easier to not intellectually struggle and just go watch another episode of Tiger King on Netflix. Flagstaffians may also be aware of what I see as an extreme form of self-overcoming: various ultra-style sports training. Whenever I hear of someone going for a jaunty R6 run at the Grand Canyon (Rim to Rim to Rim to Rim to Rim to Rim), I think: "now there's someone who's self-overcoming." Most of us have less extreme versions of sporty self-overcoming: long hikes in the woods, the more modest (but still daunting) R2R hike or run, extreme mountain bike treks. These are tests of our physical and mental limits; we athletes wish to push ourselves in order to become better than what we are or what we were. We don't achieve any special award or glory from our peers for going for a long hike (not officially, anyway, although who doesn't enjoy the look on a non-hiker friend's face when you tell them about your grueling R2R hike? That's the will to power at work). The main reward is a personal one: a sense of self-mastery.
The cave scenery in both Star Wars and TSZ is important; it's in the dark and wild places where we really encounter who we are. Zarathustra makes a similar statement about mountains: "And whatever may yet come to me as destiny and experience will include some wandering and mountain climbing: in the end, one experiences only oneself" ("The Wanderer", 264). Woods, nature, caves are all beautiful and a bit scary. They instill feelings of the sublime. Those encounters with the sublime are opportunities to practice self-overcoming. The scale of mountains makes them scary, especially when we think of them in terms of our own limitations. I think these feelings of limitation and smallness make climbing mountains so satisfying. When I stand at the summit of Mt. Humphreys I've done something physically challenging. And it's challenging because of my very limitations.
Let's tie together these various conceptual strings. We've explored the idea of the sublime, the feeling we have in the face of awe-inspiring objects, which is both pleasurable and uncomfortable. These are the ideas we've explored from Immanuel Kant. I've also connected the feeling of the sublime to Nietzsche's notion of self-overcoming: the idea that humans must continually strive to challenge themselves and achieve great things. Indeed, feelings of the sublime present themselves as opportunities for self-overcoming. One of the great things about living in Flagstaff is that we have ready chances to experience both the sublime and self-overcoming: the glorious San Francisco Peaks. Visual experiences of mountains instill feelings of the sublime and serve as a metaphor for self-overcoming.
I'll end with one last passage from TSZ, which I think encapsulates the longing for sublime experiences and the call to action that they present:
Alas, this black sorrowful sea below me Also, this pregnant nocturnal dismay! Alas, destiny and sea! To you I must now go down! Before my highest mountain I stand and before my longest wandering; to that end I must first go down deeper than ever I descended—deeper into pain than ever I descended, down into the blackest flood. Thus my destiny wants it. Well, I am ready (266).
References

Edmund Burke, A Philosophical Enquiry into the Origin of our Ideas of the Sublime and the Beautiful, Project Gutenberg
Douglas Burnham, Immanuel Kant: Aesthetics, Internet Encyclopedia of Philosophy 2020.  Accessed 15 March 2020.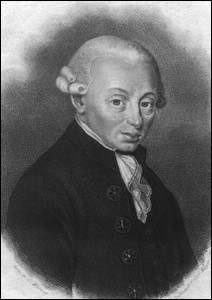 Hannah Ginsborg, "Kant's Aesthetics and Teleology", The Stanford Encyclopedia of Philosophy (Winter 2019 Edition), Edward N. Zalta (ed.), URL = <https://plato.stanford.edu/archives/win2019/entries/kant-aesthetics/>. Accessed 15 March 2020.
Gur Hirshberg, "Burke, Kant, and the Sublime," Philosophy Now, 11 , 1994.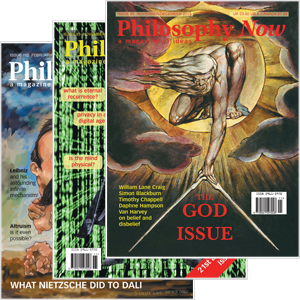 Paul Guyer, "Kant's Distinction Between the Beautiful and the Sublime" The Review of Metaphysics, 35, 1982, 753-783
Immanuel Kant (2007). Critique of Judgment. James Creed Meredith (trans.). Oxford: Oxford University Press.
Friedrich Nietzsche (1982). Thus Spoke Zarathustra. In Walter Kaufmann (ed.), The Portable Nietzsche (pp. 103-439). New York: Penguin Books.