As a public philosopher, I like to describe my work with non-professional philosophers as an invitation to think. I have come to believe that the result is what defines the practice. In my opinion, the main goal of public philosophy, which distinguishes it from other forms of philosophical practices, is to promote the ability and habit of philosophical thinking. By organizing philosophical labs with children, elderly, students, or prisoners, I aim to provide the participants with some thought provocation and opportunities to reason and discuss together. I thereby want to help people in developing and exercising philosophical attitudes and abilities, such as the problematisation of the given, the analysis of a question, or conceptual clarification. Besides these cognitive relapses, the practice of philosophical inquiry and dialogue helps people develop the aptitude to seek greater self-awareness, to actively listen to others, and to engage in constructive dialogue with them - all formative effects with enormous ethical and social value. In fact, I have witnessed that, even if the outcome of philosophy – as the knowledge about knowledge – is foremost epistemic, its exercise and practice can also have a relevant social impact, in terms of individual participation, inclusivity, and community bonds. It is precisely in reference to the possible social repercussions of the practice that I would now like to tell the story of a specific public philosophy experience of.
The experience I want to talk about is being conducted in Cremona, northern Italy, and it is promoted by a voluntary association, Auser Cremona. Auser Italy (https://www.auser.it/ ) is one of the many voluntary associations present in the country, it is spread throughout  all of the national territory, with – at the moment I'm writing this – about 50.000 volunteers and 8 million hours of volunteering carried out in one year. This particular project is called "Auser VolontariAmo!"  Born from an idea of Donata Bertoletti, President of Auser Cremona, it aims to involve teenagers and young people in the "third sector" and in the volunteering world, with the multiple intent to build intergenerational social bonds within the communities of citizens (otherwise so difficult to experience outside the inner circle of families), and to promote an active citizenship at every age.
Why we made the choice of employing philosophy, how we proceeded and whether it worked is what I would like to briefly outline here
The experience of Auser VolontariAmo!
Italy is the second country, after Japan, with the highest median age (46.8 in 2021, data here: https://ourworldindata.org/age-structure ). In 2021, only about 12% of the population was under 14 years old, while about 24% of the population was over 65. This distribution inevitably affects all aspects of society and, obviously, the political agenda. In an increasingly aging society, the younger generation's struggle to find their voice, or, perhaps better, it struggles to find a way to make it heard. Also, the means of expression today favoured by young people, social media, rarely used by older people, brings a rising difficulty of communication between different age groups. On the other hand, the lack of youth (or their invisibility) generates in the older generations the feeling of being left alone with the responsibility to manage the present and project the future.
It so happens that the different generations find themselves living apart, in different worlds, with different understandings of the present and different hopes for their future. A situation which ultimately leads to the increase of phenomena like intergenerational injustice, educational poverty, and social isolation.
Yet, if we want to intervene in this situation and promote forms of intergenerational collaboration, we must encourage young, adults, and elderly to share their visions of the world, their values and their different ideas of what counts and what does not. We must help them to understand each other. This was the urge that originated and motivated the experience of VolontariAmo!
By proposing an occasion for philosophical dialogue, we wanted to create a different story from the one that sees different generations divided on everything and fighting each other for their ideas of present and future. It is not necessary to agree on the very same values, opinions, expectations  (personally I don't believe this is possible, not even desirable). What is necessary, though, in order  to create and develop social bonds, is to help people see each other's issues and needs, and acknowledge others' principles, fears and hopes. That is why we thought that a space for speech (and listening) was the mandatory starting point of the work: here is where philosophy as a dialogical practice has come on to the scene.
Think, share, and think again! The practice of philosophy
A philosophical lab, as I conceive it, is a space for speaking, listening, and rational inquiry. It is a practice formalized by the Philosophy for Children and later by the Philosophy for Community (or Community Philosophy). Through philosophical dialogue, people are brought to examine an issue together. Provoked and guided by the philosopher, the group reasons and discusses the proposed topic. For example, we started some of our conversations with questions like: "What does it mean to be a volunteer?", "What do you hope for your future?", "Which superhero (out of a few given options) would you choose as a role model for your children?", and many others. In the dialogue, people share much of themselves, of their beliefs and visions of the world. They allow their opinions to be examined by others, and to be revisited or confirmed in the light of a better awareness of it.
A philosophical dialogue is different from a common conversation, as it follows precise rules and has a particular focus. Within philosophical dialogue, the aim is not to give vent to the personal ego in a succession of stories and personal anecdotes – although this also happens in a philosophical discussion. The aim, if anything, is to work together to gain a deeper understanding of the examined issue. While in conversation words follow one another in order to tell a story, or to say something about themselves, in a philosophical inquiry the discourse pursues a definitional purpose. It wants to aspire to define concepts and meanings. It is not enough to express an opinion or a valuation. In a philosophical discussion we ask people to explain the reasons for their opinions and we often search for them together. We try to go deep, bringing out the (often unreflected) epistemic, metaphysical, and moral assumptions, and investigating the possible implications of an assertion. We seek for conceptual distinctions and connections, gradually reconstructing the outlines of the question under examination. The anecdote, or the personal experience might, of course, find place in such a dialogue, but they should serve to interrogate the question or to add elements useful to its definition. Philosophy aims to trace the semantic contours of the categories used. I understand this activity as a commitment to words and to thought and, consequently, to our reality, since working on concepts means refining the tools with which we interpret and understand the world.
Multiple are the formative goals of the practice. Philosophical inquiry helps people gain a better understanding of themselves and of their own particular sets of values and beliefs. In my experience, the practice is also particularly powerful in bringing out unreflected assumptions, detecting prejudices and bias, clarifying positions and specifying agreements or disagreements. By choosing different superheroes as models for their children, for instance, a group of parents came to acknowledge having different educational paradigms, which we discussed and examined together. The confrontation with their children, who also had chosen their preferred superhero, then brought parents and children to understand the different value each of them gave to the various elements involved in the educational process (such as talent, commitment, respect for moral principles, but also the formative importance of the error, and so on).
It so happens that people find out they are living in "different worlds", for they are guided by different beliefs and systems of values in their daylife. By sharing and understanding these profound differences, people reach a mutual understanding that is difficult to reach otherwise, and gradually become a community, a community of inquiry, but also an educational one.  Everyone teaches something to the others, and everyone learns together.
What different generations of citizens have learned from each other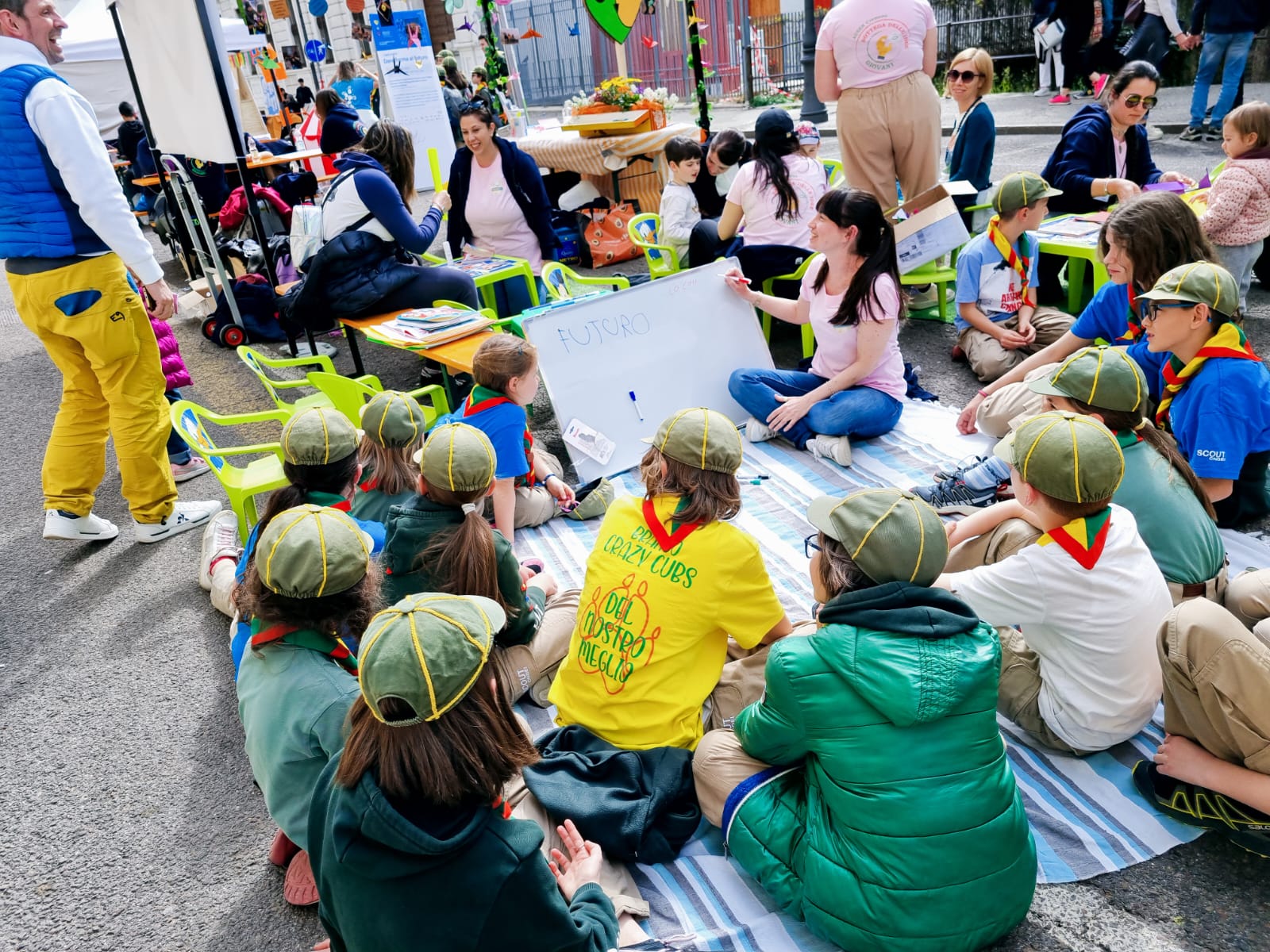 In the last months, we worked with groups of different ages: kids (4-11 yo), teenagers (12-17yo), young adults (18-25), and adults of every age. We also organized occasions for an intergenerational confrontation. We are still at the beginning of an experience we hope to continue for a long time to come, and yet the practice has already  allowed us to make significant discoveries.
Some quite ingrained prejudices of each generation towards the other have emerged. At the beginning of our path, for example, the elderly seemed united in the accusation towards young people about their lack of commitment, initiative, and availability to provide help and support to their communities. "They simply don't care!" is what  I remember someone saying. As for their part, the very first dialogues with teenagers seemed characterized by a background of general distrust towards adults, who in their eyes appeared indifferent to their needs: "they don't listen to us!" In both groups, then, a common question seemed to emerge, even if it was articulated in different ways: the problem of intergenerational justice. The two groups seemed to accuse each other of failing in this regard: the elderly blaming the young people for breaking the pact of solidarity between generations, leaving them in charge of all the burdens of community management. Young people accused previous generations of myopia or, worst, selfishness, for having irresponsibly consumed environmental resources, leaving future generations alone to face the climate crisis they have caused.
The clarification of these reciprocal resentments, how fair or justified they might or not be, is the first, necessary step to take in order to address them. This is exactly  what we then have done. We have worked on these reciprocal charges, trying to understand their origin and motivations, and questioned them in a free confrontation. It so happened that those allegations, initially so clear-cut and decisive, have progressively been revisited and better articulated. The "they don't care" accusation against young people was better redefined as "they care about something else from us, something we hadn't considered". It was not the naïve discovery it may appear on paper, as it came out from real confrontation in the groups of dialogue. It became evident that the fact that younger generations appear to be so self-centred, almost completely focused on their personal goals in life and little engaged in volunteering or pro-bono activities, was not due to egoism or negligence for their communities, at least not for many. Together we came to understand that one reason young people are so concentrated on their professional future is because they are very worried about it. One of the main causes of anxiety for the young generations is their future careers: questions like "will I find a profession that I like?", "will I be able to reconcile private and professional life?", "will I find a job at all, or will I be forced to leave?" This realisation represented a net change in the way many elderly people looked at the teenagers in the groups, it broke some stereotypes and allowed a different relationship between the two parties. While, namely, the older generations might not have experienced the same worries, they certainly can understand and recognize fear, and on this common ground they can open a dialogue, build a relation, and project joint actions to address those fears.
On their part, through dialogue and a guided confrontation, teenagers could appreciate that what appeared to them to be a lack of interest in their problems by older people is often actually the result of an inability to recognize those problems as such. Rather than "they don't listen to us", the issue seems to be once again that of recognition: "they look at us, but they don't understand". It is not a matter of arrogance, disinterest, or paternalism: very often, it is a matter of lack of tools and resources, above all epistemic, that allow people with different histories and life experiences to understand each other. (This thought brought some teenagers volunteering to help people of seniority to familiarize themselves with some of the urgent issues of the young people's world, such as social media and the environmental issue, thereby allowing the elderly to enter the teenagers' reality).
The example described above represents something that is in fact significant. The substitution of some categories and descriptions with others produced a huge change in how young and old see each other and relate.  The discovery of a mutual understanding – despite their differences – is the basis that allows teenagers to enter into a more meaningful relationship with adults and elderly, and on which social bonds are built. On a mutual understanding people can also find the resources to work together and help each other to pursue their goals and aims. How can there be any joint action without the sharing of vision? There is, therefore, the need for a sort of cultural mediation between generations: this is where education – permanent education – can intervene, and this is where, in our experience, philosophy has provided a precious contribution.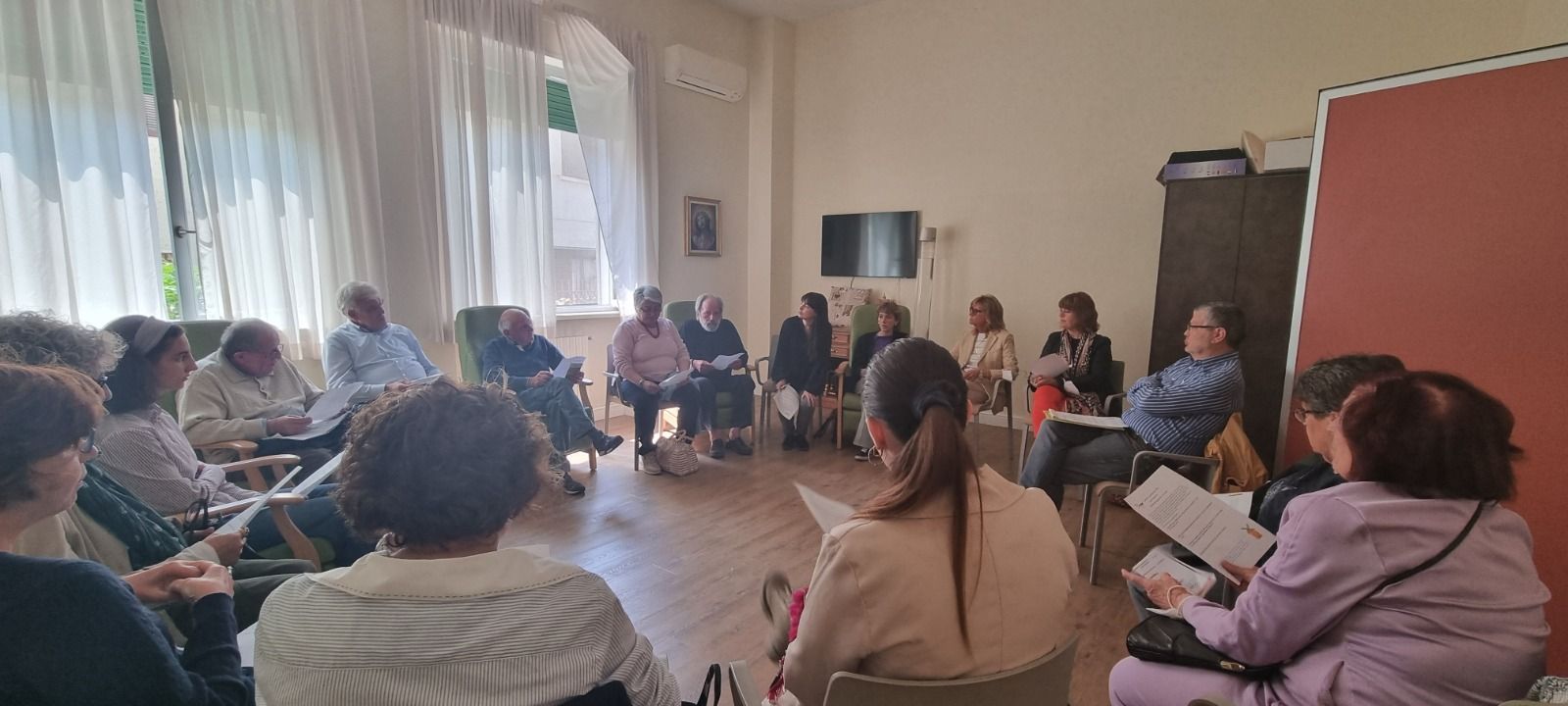 On the formative role of philosophy
The idea behind this project, its initiatives and its current results have been presented at Educa 2023, the national festival of education that  takes place every year in Rovereto (TN), Italy. It is significant that a project aimed to involve people of every age in volunteering has been selected by an education festival. It is the acknowledgment that an experience of philosophical practice can be formative for the individual and for the entire community.
As I said before, I like to conceive public philosophy as the operation of bringing philosophy, understood as thinking and inquiring practice, to potentially everyone. With this particular experience, the practice of philosophical inquiry has been employed to build a shared comprehension of reality, with the ambitious expectation (then confirmed by the facts) that the epistemic gain so achieved would have provided the basis for stronger, more inclusive, social ties and for the implementation of social policies attentive to everyone's needs. Through philosophical dialogue, we have brought people of different ages, life histories, and education to reason together about their hopes, expectations, and desires for their future. We have  allowed them to create new, shared, horizons of significance. We have, thereby, proved that the exercise of philosophy can provide a valuable contribution within the very general goal of promoting an active citizenship at every age.
By re-defining categories, by better qualifying situations, points of views and interpretations of reality, philosophy can correct conceptual injustices and myopia, and provide a different storytelling, more aware of the complexity of the world we are living in. Philosophy can, thereby, help communities of citizens build a shared vision of their present and a better understanding of each other's needs and hopes. It is foremost an epistemic endeavour, connected to our way of reading and interpreting reality, and yet, this operation is the prerequisite, I believe, for any form of aware and inclusive citizenship. Through the practice of philosophical dialogue, we have managed to enable a new generation of volunteers to take an active role within their communities. Most importantly, we are enabling them to express their needs and desires in order to consider them into the agenda of social policies. We are still at the beginning of this experience, and yet, I believe we can surely say that community philosophy can have a concrete and profound impact on people's life and their social relationships.
Lucia Ziglioli has a PhD in Philosophy, from the University of Pavia (Italy). She continued her work at Oxford (UK), and at the Blaise Pascal University in Clermont-Ferrand (France). Today, she curates and manages FilosoficamenteLab, an initiative of public philosophy in Italy. Through that, she brings philosophy to children, elderly, and prisoners. She writes about these experiences and the reasons that motivates them in a variety of places. Her latest publication is Filosofi dentro. Un'esperienza di filosofia tra le mura (2023).